Asset Inventories: First Step to Modernizing Infrastructure
Share
It is well documented that America's infrastructure is in dire straits. If one message came out of this year's Infrastructure Week it is that any solution that comes from Congress and the administration will need to be in the form of a multi-pronged approach that spans the breadth of funding, financing, and permitting issues. Based on the administration's proposed budget for 2018 that was released this week, 80 percent of the president's 10-year, $1 trillion investment goal is expected to come from streamlining and leveraging private investment, both of which have degrees of bipartisan support as pieces to this puzzle. On the private side, public-private partnerships (P3s) are widely used internationally, but have just started to gain popularity in the United States, and are currently only a fraction of the infrastructure portfolio.
This is largely because there are several existing barriers to leveraging private capital and creating more P3 projects in the United States. One barrier is that the full scope of the long-term costs, risks, and opportunities are largely undocumented. Public agencies typically lack a comprehensive overview of their assets' condition and future cost. In some cases, agencies don't even have a complete list of the assets they own. This is especially true for water infrastructure, where the location and condition of pipes and water mains can be a mystery to the agencies that manage them. Just last week in Washington, D.C., it took a water main breaking to discover that it had been installed back in 1860.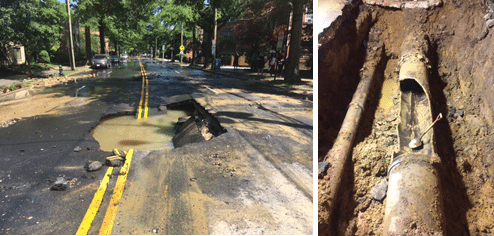 This information barrier inhibits the ability of public agencies to make strategic decisions about how and where to deploy their limited funds, and masks potential opportunities for connecting private partners with appropriate projects. Essentially, finding innovative solutions is challenging if you don't have the full picture.
Removing this barrier is the first step to modernizing infrastructure in the United States, and the solution is relatively simple.
Asset Inventories
To both improve the opportunities of leveraging private resources and to modernize their own planning process, state and local governments should be developing life-cycle asset inventories. An asset inventory is a comprehensive list of all infrastructure assets that are owned by a federal, state, municipal, or county government. Government entities own a lot of things, from transportation assets like roads, bridges, buses, sidewalks, ports, and airports, to the intertwined water infrastructure systems, and the unconventional assets like schools, civic buildings, and vacant land. Asset inventories assemble this diverse portfolio in a centralized location and present data on their current condition, the cost of maintaining them through their remaining useful life, the cost of replacement, and the potential impact of a failure.
As the Bipartisan Policy Center's Executive Council on Infrastructure recommended in the report Bridging the Gap Together: A New Model to Modernize U.S. Infrastructure, developing a comprehensive, life-cycle asset inventory will enable public agencies to strategically manage their infrastructure needs. With the additional information provided by the inventory, public officials can effectively schedule and prioritize maintenance, identify deteriorating assets most at risk of failure, and find new ways to generate revenue from existing assets. This inventory also creates an independent and transparent analysis of the existing infrastructure priorities in each jurisdiction.
Life-cycle asset inventory will enable public agencies to strategically manage their infrastructure needs.
Notably, preparing an inventory of this depth and magnitude is not without cost. Michigan's 2018 Executive Budget, for example, proposed providing $2 million to develop a pilot for a statewide asset management database. Despite the upfront costs, similar inventories have proven to be useful tools that have enhanced the planning and decision-making process for public officials.
The city of Detroit deployed an inventory-based solution for the Motor City Mapping program's effort to revitalize housing conditions, which fully digitized Detroit's property information, including photographs to categorize the condition of all 376,000 properties. With an updated and categorized inventory in hand, the city implemented new policies and partnerships, such as the Detroit Land Bank Authority to begin repurposing unused lots, demolishing blighted structures, and building new homes. Similarly, a recent audit of city-owned property by the New York City Comptroller found more than 1,100 vacant lots that could be put to use as affordable housing or incorporated into other strategic planning goals.
Since 1997, the Federal Highway Administration has publicly maintained the National Bridge Inventory, a state-by-state database of structurally deficient bridges. The existence of this inventory was the catalyst for Pennsylvania's Rapid Bridge Replacement project, which bundled 558 small and rural bridges into a single project using an innovative public-private partnership. Private investment can struggle to connect with projects in rural communities, but by using an asset inventory, dozens or hundreds of small but similar projects can be bundled together, to leverage an economy of scale that creates a more attractive investment.
Support Research Like This
With your support, BPC can continue to fund important research like this by combining the best ideas from both parties to promote health, security, and opportunity for all Americans.
Give Now
Join Our Mailing List
BPC drives principled and politically viable policy solutions through the power of rigorous analysis, painstaking negotiation, and aggressive advocacy.