American Congressional Exchange Aces Another Year of Trips
Share
2022 marked another outstanding year of American Congressional Exchange trips building the cross-party relationships that are essential for collaborative problem solving in a polarized Congress. With eight representatives, we met dozens of local leaders in five congressional districts from Florida to South Dakota. As usual, these trips showcased the diversity of American communities- along with the many commonalities.
Hard work. In every ACE district, we met people working hard to build economic opportunities for their families and communities. In South Dakota, Reps. Dusty Johnson (R-SD) and Dean Phillips (D-MN) met Scott VanderWal on his corn, soybean, and cattle farm. In Florida's 9th district, Reps. Darren Soto (D-FL) and Tony Gonzales (R-TX) met with students, teachers, and administrators at Valencia College's Advanced Manufacturing Training Center, where programs are designed to train students for high-demand, well-paying jobs. In northwest Ohio, Reps. Bob Latta (R-OH) and Robin Kelly (D-IL) visited First Solar, a company bringing the growing solar energy industry and its opportunities to the Toledo area.
Community. Every ACE trip brings us in touch with people demonstrating outstanding efforts to build and support community. In Oklahoma City, Reps. Stephanie Bice (R-OK) and Sara Jacobs (D-CA) visited the First Americans Museum which houses the histories of 39 First American Nations in Oklahoma today. In South Dakota, Reps. Johnson and Phillips toured the Pleasant Valley Colony, a Hutterite community of farmers and skilled tradespeople preserving a centuries-old way of life.
Service. ACE trips always present incredible models of service to country and community, including many military installations. In Del Rio, Texas, Reps. Gonzales and Soto visited Laughlin Air Force Base, where approximately 6,000 people work every day to train and protect the U.S. Reps. Bice and Jacobs stopped at the Oklahoma City National Memorial, which honors the victims, survivors, rescuers, and all who were affected by the 1995 Oklahoma City bombing.
As a result of these ACE trips (and the many others the Bipartisan Policy Center has sponsored since 2018), participants and their staffs have forged important new relationships and worked on legislative actions around issues where they have found common ground.
Looking forward to 2023 and a new Congress, ACE is ready for another great year of exploring our differences and celebrating what unites us.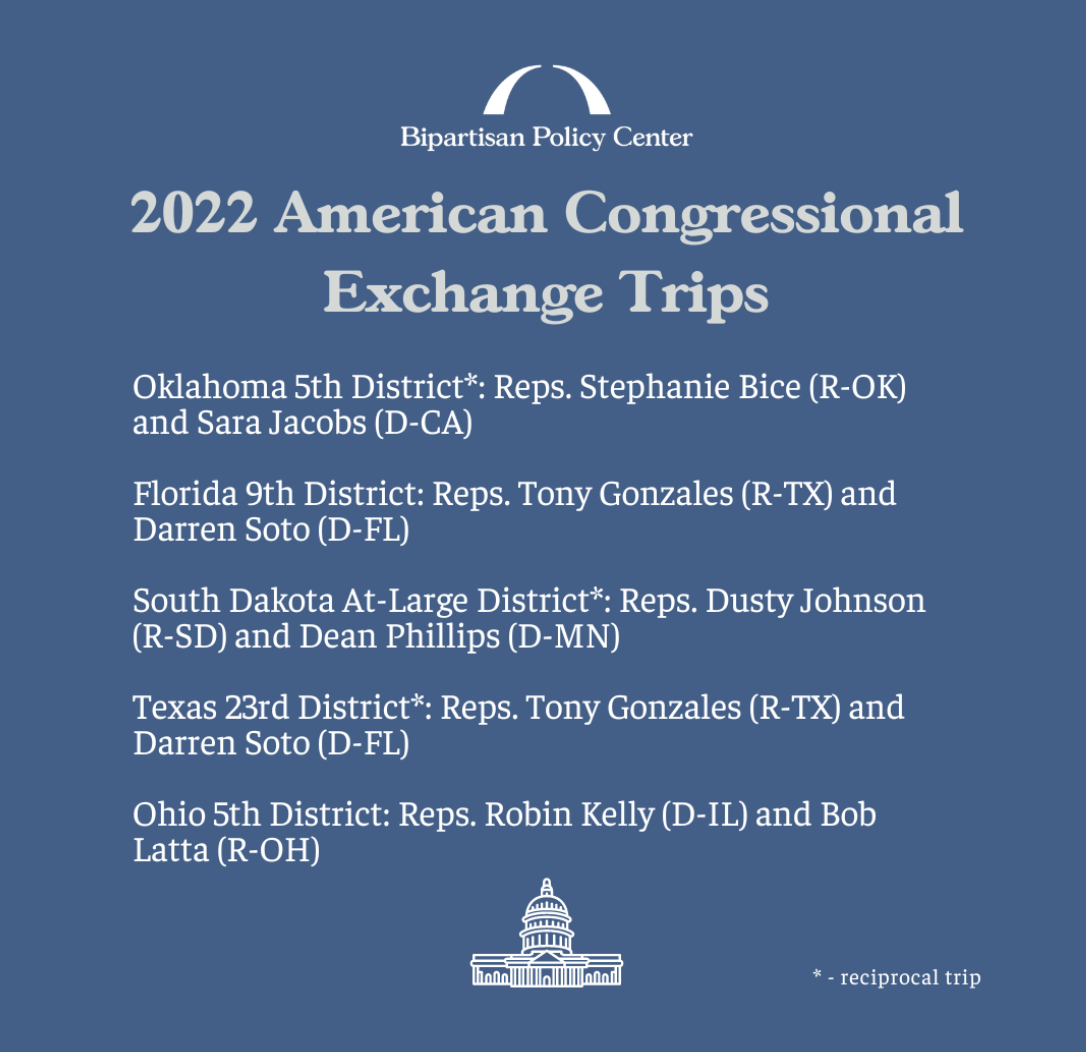 Support Research Like This
With your support, BPC can continue to fund important research like this by combining the best ideas from both parties to promote health, security, and opportunity for all Americans.
Give Now