2012 Year in Review
Michael Stubel contributed to this post.
Click on the images below to view more photos
---
We honored two remarkable men and BPC founders, Senators Howard Baker and Bob Dole, for their distinguished military service, storied careers in elected office, and combined public service of more than a century. Vice President Joe Biden made remarks along with nearly every former living and current Senate majority leader.
---
James Carville and Mary Matalin welcomed a cast of top newsmakers and politicos to BPC's Fourth Annual Political Summit at Tulane University in New Orleans. The summit attracted more than 1,000 attendees, garnered local and national press attention, and generated lively conversations on BPC's Facebook, Twitter and Instagram pages.
---
3. 2012 Election Series

BPC's Democracy Project hosted eight events as part of its 2012 Election Series. The discussions explored our nation's electoral system, congressional trends, and the political outlook for the November elections.
---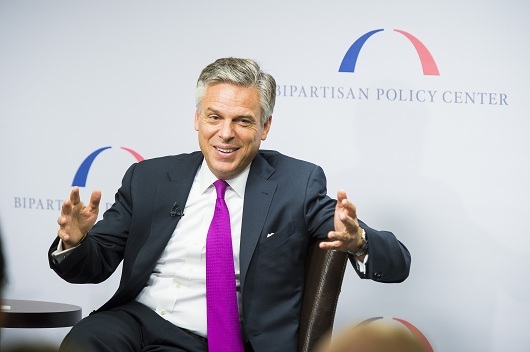 Continuing its "On Leadership" Speaker Series, BPC welcomed Jon Huntsman, former presidential candidate, governor of Utah, and ambassador to both China and Singapore. Huntsman discussed his experiences on the campaign trail, reflected on his achievements as governor, and described his commitment to bipartisanship across four different administrations.
---
PBS's Judy Woodruff and Gwen Ifill, and CNN's Candy Crowley spoke on a panel hosted by BPC and the Newseum. The three journalists, who have significant experience reporting on presidential campaigns, offered their insights into the 2012 election and discussed their work on the campaign trail.
---
Senator Max Baucus (D-MT) presented his goals for a comprehensive tax reform package, which he cited as a crucial part of solving the federal government's fiscal woes. The event was sponsored by BPC as a part of its efforts to promote a fiscal plan that would stabilize the nation's debt. Senator Baucus said that he intended to use both BPC's Domenici-Rivlin plan and the recommendations of the president's Simpson-Bowles fiscal commission as starting points for full-scale tax reform.
---
BPC's Health Project examined the Supreme Court ruling on the Patient Protection and Affordable Care Act (PPACA). A series of speakers and panel discussions addressed the impact of the decision on states, health care providers, employers, health plans, and consumers. Specifically, the forum explored the areas whose fates are most linked to the outcome of the decision: the future of insurance market reforms and the Medicaid program.
---
Senator Mark Warner, a key leader in drafting the Dodd-Frank Wall Street Reform and Consumer Protection Act, gave introductory remarks as BPC launched the Financial Regulatory Reform Initiative. The initiative is guided by co-chairs Martin Baily, former chairman of the Council of Economic Advisers under President Bill Clinton, and Phillip Swagel, former Treasury Assistant Secretary for Economic Policy under President George W. Bush. This pair will provide broader direction to a bipartisan group of former regulators, policy advocates, academics and practitioners that have joined together to work on this important initiative.
---
The Housing Commission partnered with the Jack Kemp Foundation to host a series of regional forums to gather input on key housing issues and best practices from stakeholders across the country. Public input will be an integral part of the commission's process as it crafts a package of realistic and actionable recommendations for improving the nation's housing policy.
---
A bipartisan group of former cabinet secretaries released a comprehensive and actionable plan to improve America's physical and fiscal crises, driven by the alarming rates of obesity and chronic disease today. Former Secretaries of Agriculture Dan Glickman and Ann M. Veneman and former Secretaries of Health and Human Services Donna E. Shalala and Mike Leavitt released the recommendations, calling needed attention to our mounting health care spending, which is expected to reach $4.6 trillion dollars annually by 2020 and consume 19.8% of GDP.
The report, entitled, Lots to Lose: How America's Health and Obesity Crisis Threatens our Economic Future, from BPC's Nutrition and Physical Activity Initiative, calls on the public and private sectors to collaborate in creating healthy families, schools, workplaces and communities, focusing on existing best practices that can be implemented on a large scale to broaden their impact and help scale back obesity in the U.S. The co-chairs recognize that given America's limited federal resources, any effective plan to reduce obesity and health care costs will need to engage private sector partners and build on successful examples, targeting those actions with the most promise to bring about large-scale shifts over time.
---
In Memoriam: Daniel Inouye, 1924-2012


Statement by Former Senator Pete Domenici on the Death of Senator Daniel Inouye

2013-01-14 00:00:00
We take a final look back at the top moments from another busy year at BPC