2011 Year in Review
Michael Stubel contributed to this post.
In the last 12 months, BPC has launched programs to address housing and nutrition and physical activity issues, renewed our commitment to energy and health policy, and carried on a budding tradition with the Third Annual Political Summit in New Orleans.
BPC's Debt Reduction Task Force, which garnered widespread attention for its 2010 report, Restoring America's Future, was a leading voice for an "everything must be on the table" approach to the nation's long-term fiscal problems. The Economic Policy Project's Debt Limit Analysis proved to be an influential tool in educating the public on the consequences of a delay in raising the debt ceiling. In the midst of the Arab Spring, the National Security Project released timely reports on stabilizing fragile states, including Egypt and Yemen. The National Security Preparedness Group (NSPG) published a widely referenced report card on the status of the 9/11 Commission recommendations. You get the idea?it was a busy year! Here are our top 11 highlights for 2011:
1. BPC in the Big Easy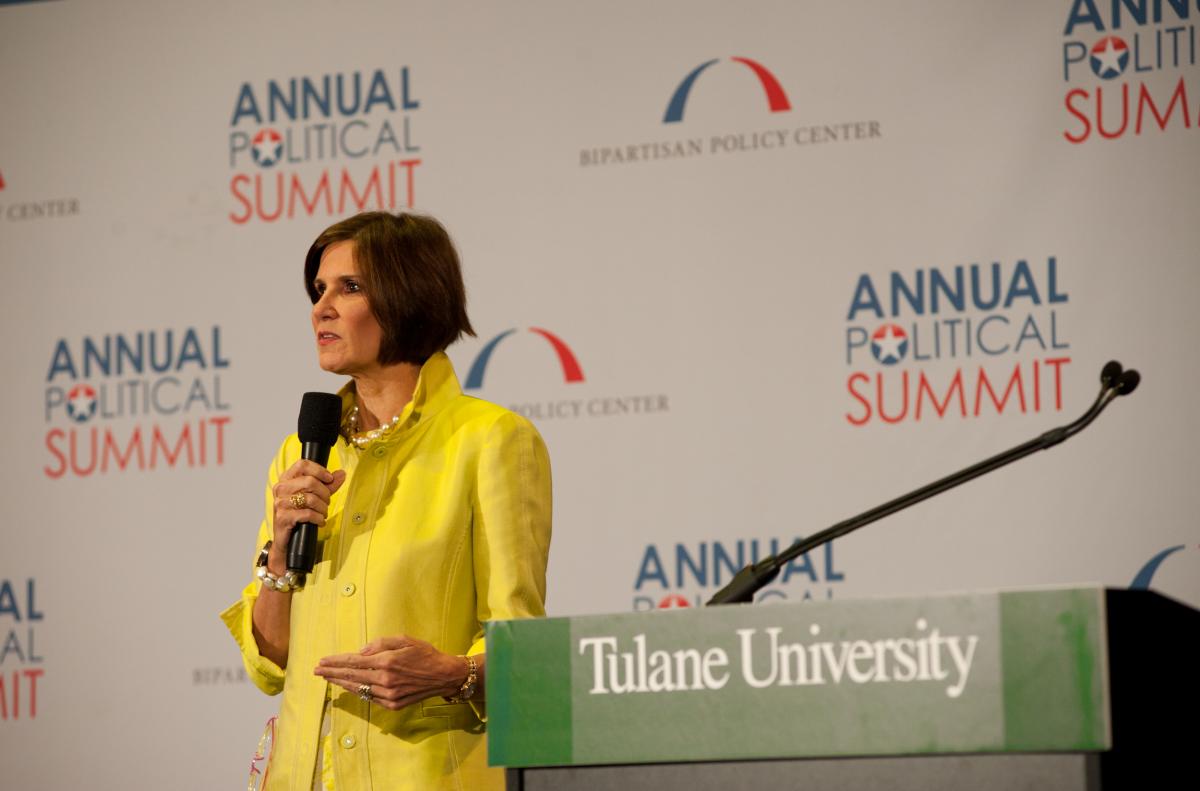 On November 15-16, we returned to Tulane University in New Orleans for our Third Annual Political Summit, "Taking the Poison out of Partisanship." Co-hosts James Carville and Mary Matalin (above) highlighted a cast of current and former elected officials, national political strategists and prominent journalists. Panel discussions on the summit's second day explored how Democrats and Republicans can come together even as partisanship ramps up ahead of the 2012 elections. View photos and video from the summit here.
Relevant Reading
Fantasies of a Debt Deal From a Convivial Congress, The New York Times
2. Harnessing Energy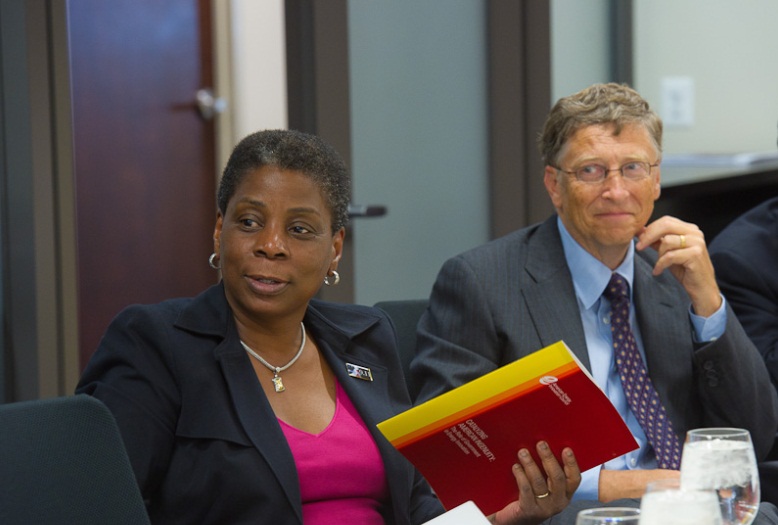 In April, we launched our new Energy Project. Former Senators Trent Lott and Byron Dorgan, General Jim Jones (ret.) and Oil Spill Commission Co-Chair William K. Reilly are leading the project, which focuses on key national energy policy issues, including energy security, supply, reliability, cost, and sustainability. In September, the American Energy and Innovation Council (AEIC), a group of America's top business leaders, released its second report, Catalyzing American Ingenuity. The report highlights the need for an active government role in energy innovation. AEIC members include Bill Gates, Norm Augustine, Ursula Burns (above, with Gates), John Doerr, Chad Holliday, Jeff Immelt and Tim Solso.
Relevant Reading
Bill Gates on the importance of energy research for the future, Marketplace
Break Energy Deadlock, Bipartisan Group Urges U.S., The New York Times
3. BPC Goes All In On ?Go Big'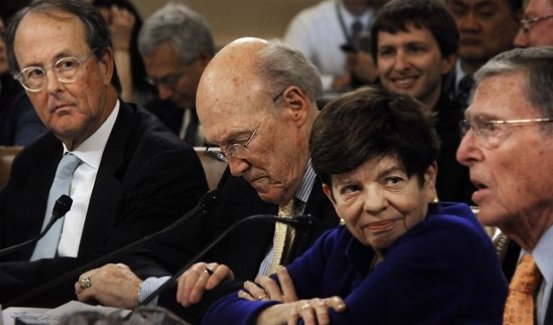 Photo credit: Melina Mara, The Washington Post Months before super committee frenzy overtook Washington, BPC's Debt Reduction Task Force, led by Senator Pete Domenici and Dr. Alice Rivlin (the pair are shown above testifying before the super committee), urged Congress and the president to put forth a package to spur economic growth, stabilize the debt, protect and restructure major entitlement programs and implement pro-growth tax reform. Despite our disappointment in the super committee's failure to reach a bipartisan agreement that addresses the largest drivers of our debt, BPC's task force will continue to advocate for a grand bargain to reassure the American public, the markets and the world that our political process can still function when we need it most.
Relevant Reading
BPC Health Spending Graphic Among Top Charts of 2011 The grand bargain, The Hill
Peterson Fiscal Summit: Steve Bell Presents BPC's Debt Reduction Plan
House Minority Whip Steny Hoyer Calls for Balanced Approach to Deficit Reduction Let's Go Caps!, The New York Times
4. Texas-Sized Innovation

BPC's Health Project traveled to Austin, Texas in October for a policy event in collaboration with the Seton Healthcare Family, the "Healthy Ideas Showcase: Changing the Way Health Care is Delivered." The event brought together state, federal and local leaders to discuss health care innovation in the state of Texas. We focused on progress in health professional workforce development and new models of care enabled by health information technology (IT). The Health Project, in collaboration with Seton Healthcare Family and the Texas e-Health Alliance, hosted its first Health Innovation Exchange. Thirteen innovations were selected and featured at the event in Austin.
Relevant Reading
Health care report questions how to plan for future, American Medical News
Health Care Industry at a Crossroads
5. Stabilizing Fragile States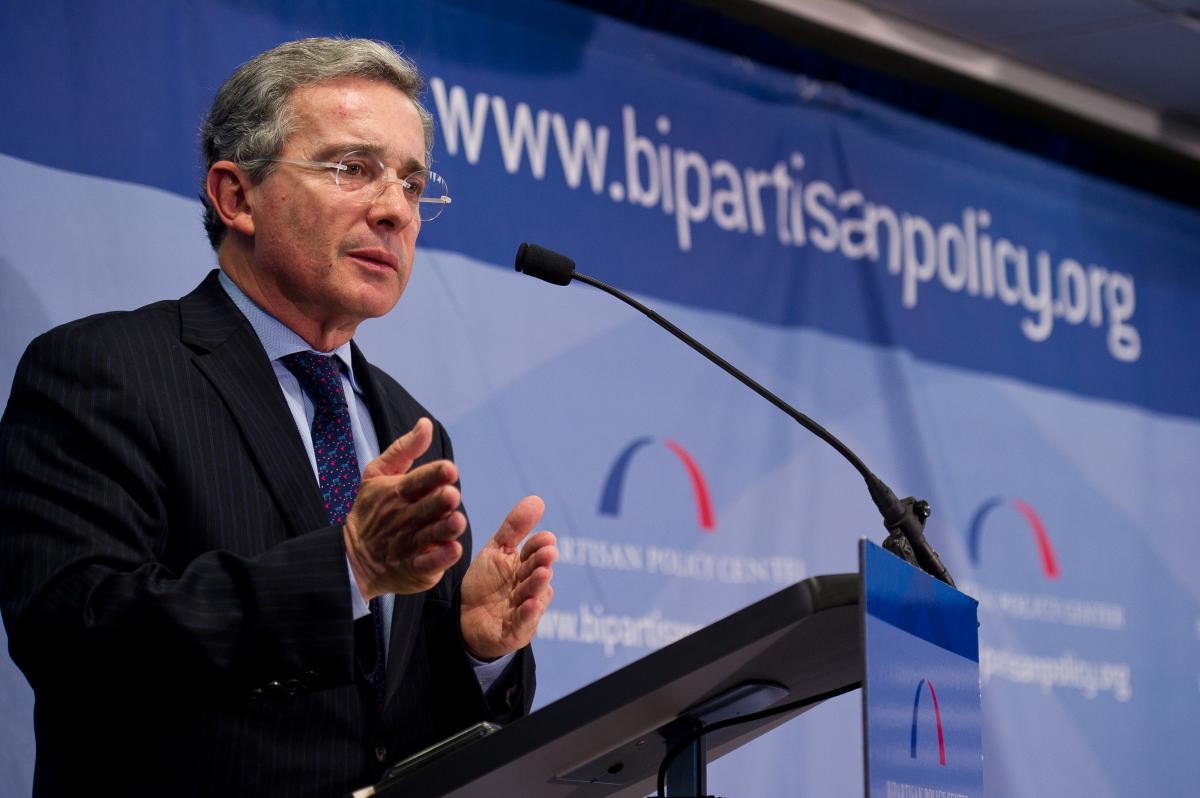 In May, the National Security Project rolled out its report, A Stitch in Time: Stabilizing Fragile States. The event featured former Colombian President Alvaro Uribe (above) and two panel discussions on the report's findings and recommendations. President Uribe discussed his accomplishments in reversing Colombia's slide toward state failure during his two terms as president from 2002 to 2010.
The report recommends ways the U.S. government can provide effective stabilization assistance to fragile states that imperil its strategic interests, including Pakistan, Yemen and Nigeria. Co-authored by former Ambassador Paula Dobriansky and Admiral (ret.) Gregory Johnson, it examines the shortcomings of current U.S. foreign policy and calls for the U.S. government to make "conceptual, strategic and organizational reforms" to prevent, rather than react to, the urgent threats caused by failed states.
Relevant Reading
Keeping fragile states from going Humpty Dumpty, The Washington Times
Interview: Álvaro Uribe, Foreign Policy
6. Making the Grades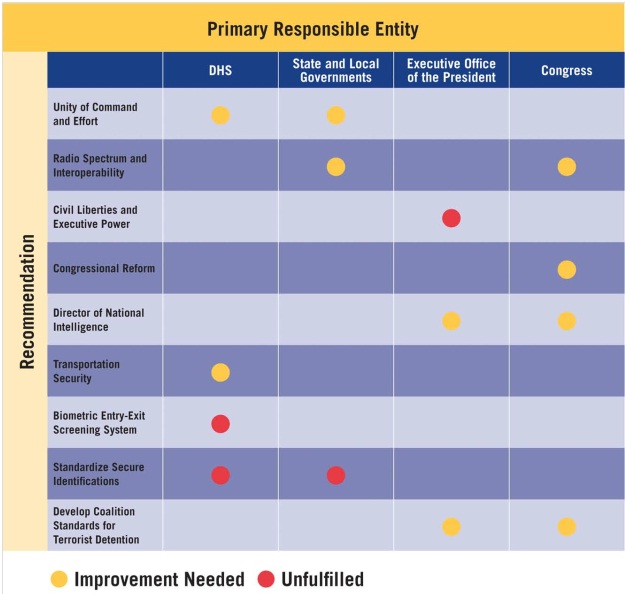 In August, the National Security Preparedness Group (NSPG) issued a widely-cited report card on the implementation of the 9/11 Commission recommendations. NSPG Co-Chairs Governor Tom Kean and Congressman Lee Hamilton highlighted nine of the 41 Commission recommendations that have not been sufficiently implemented in the decade since the attacks. Along with Kean and Hamilton, commission members Fred Fielding, Senator Slade Gorton, Secretary John Lehman and Governor James Thompson participated in a panel discussion moderated by Ann Compton of ABC News.
Relevant Reading
Leaders of 9/11 Panel Call Action Plan Unfinished, The Wall Street Journal
Sept. 11 Anniversary Report Card: Not a Lot of A's, ABC News
7. Wiser Investment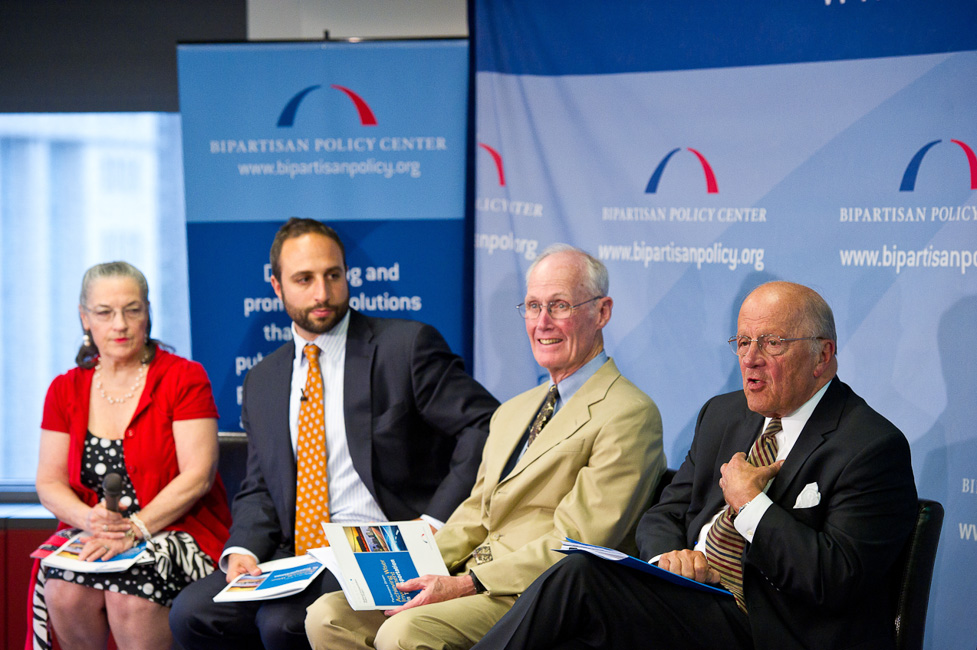 In June, the National Transportation Policy Project (NTTP) issued a major report that presents a near-term solution for restructuring the federal surface transportation program. The proposal recommends policy and investment decisions given the current fiscal and political realities we face. The new report builds on the framework of NTPP's 2009 report, A New Vision for U.S. Transportation Policy.
Relevant Reading
If You Favor a Policy, Please First Figure Out What it Is, The Atlantic
Transportation spending is a mess. Does it have to be?, The Washington Post
8. Conversations on Civility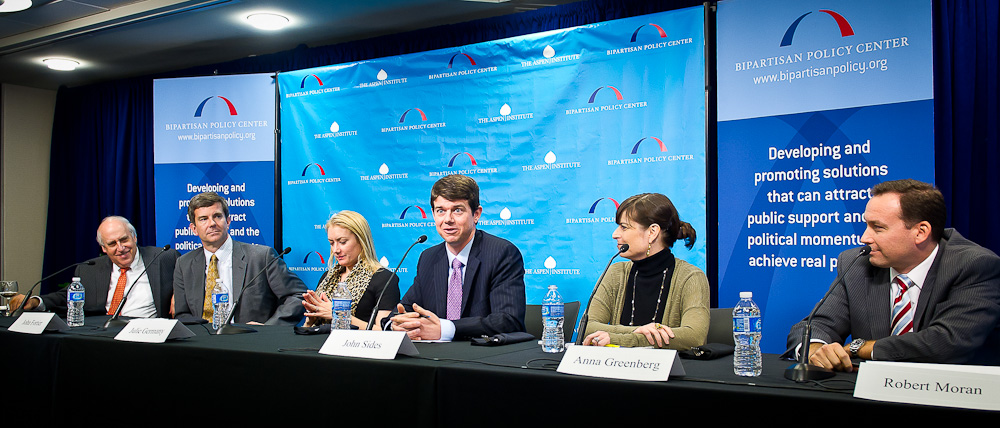 Throughout the year, the Democracy Project partnered with the Aspen Institute to host a series of roundtable discussions, "Conversations on Civility: Making Our Democracy Work," to discuss improving our democracy and civic health. The series examined the breakdown of our nation's civil discourse and how this trend influences future political leaders. Each roundtable identified opportunities for educators, business leaders and policymakers to forge a more robust, active and politically engaged citizenry.
Relevant Reading Campaign donations tied to U.S. debt, POLITICO
Panel looks at how to end partisanship, The Arizona Republic
9. BPC Expands Efforts to Housing Policy

Visit msnbc.com for breaking news, world news, and news about the economy
Since the housing bubble burst in 2006, the wealth of American homeowners has fallen by more than $9 trillion, or nearly 40 percent. The strength of the housing industry has a substantial impact on our economic recovery, affecting consumer spending, homebuilding, banking and local tax revenues.
In October, BPC launched the Housing Commission to address the long-term challenges facing a struggling housing sector. Former U.S. Secretaries of Housing and Urban Development Henry Cisneros and Mel Martinez, and former U.S. Senators Kit Bond and George Mitchell, a BPC co-founder, lead the effort. The Commission's final recommendations will be released in early 2013 for consideration by the administration and Congress.
Relevant Reading
BPC's Housing Expert Forum: What are the most pressing issues in housing policy today?
10. Hula Hooping to Health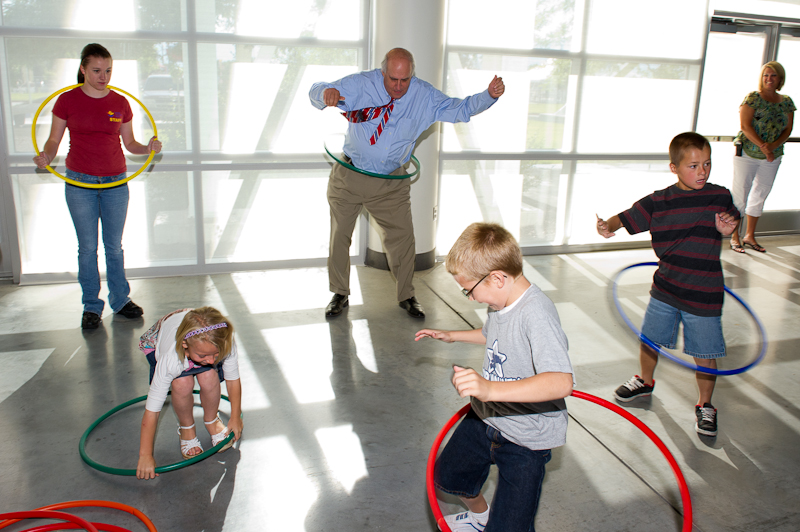 Former cabinet secretaries Dan Glickman (above), Mike Leavitt, Donna E. Shalala, and Ann M. Veneman, co-chairs of BPC's Nutrition and Physical Activity Initiative, traveled to Miami and Salt Lake City to hold roundtable discussions with local leaders on affordable and accessible nutrition and physical activity programs. They toured various sites on their trips, taking in best practices and doing their best to show off their youthfulness!
Relevant Reading
Officials tour Utah facilities looking for answers to sustain the national health, fitness phenomenon, Deseret News
To Capitol Hill: End the Food Fight, The Huffington Post
11. Debt Limit Countdown Clock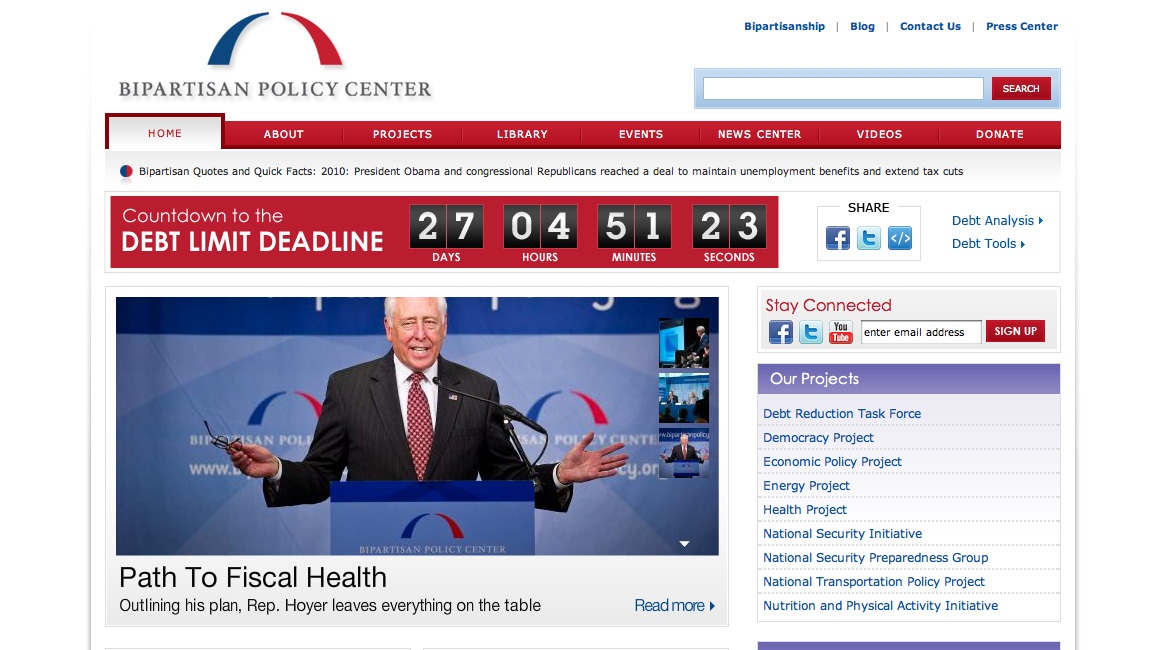 As the federal government approached its debt limit last summer, we released a clock to countdown the time remaining ahead of the August 2 deadline. The clock, featured prominently on BPC's homepage, included the days, hours, minutes, and seconds left before the Treasury Department would have been forced to prioritize spending if no deal had been reached. Visitors to BPC's website could easily use the clock's embeddable code to add the widget to their own site or blog. Social media links were also provided, which allowed Facebook and Twitter users to send the latest clock reading to their followers.
BPC's Debt Limit Analysis found that 44 percent of U.S. government bills would go unpaid if the federal government failed to raise the debt ceiling by the August 2 deadline. The analysis also showed that an uncertain economic environment would ensue if Treasury restrained spending to remain under the debt limit.
Relevant Reading
Where are the tickers?, The Washington Post
BPC Unveils Redesigned Website
2012-01-13 00:00:00
Before closing the book on 2011, we take a final look back at the top moments from an exciting year